Home
/ Restaurant "Uyut" - cafe and banquet hall in Almaty - Hotel "Uyut"
Restaurant "Uyut" - cafe and banquet hall in Almaty - Hotel "Uyut"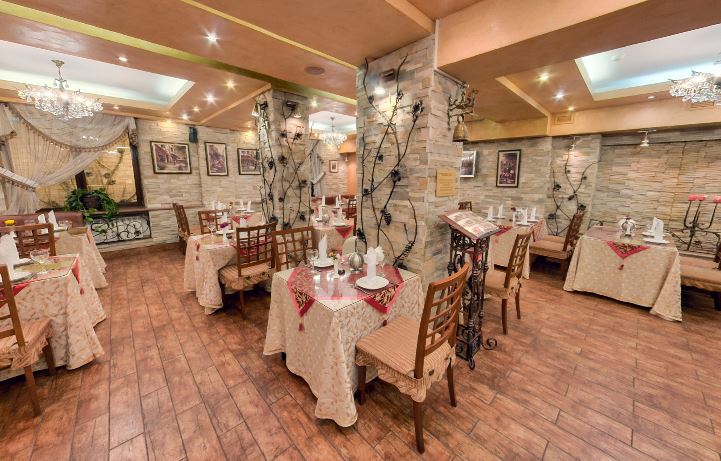 Almaty is a city offering a lot of gastronomic pleasures in numerous restaurants and bistros.Do you want to become a full participant in a delicious holiday and get real pleasure? Business class hotel "Uyut" in the very center of Almaty invites you to become a guest in our own restaurant.
We are pleased to offer you:
full menu, including the most popular dishes of the national Kazakh cuisine;
classic Russian snacks, dishes of Italian and French chefs;
seafoods of East Asian cuisine;
grilled fish or rich meat assortment.
We offer many interesting alcoholic drinks. Those who adhere to a healthy lifestyle, will choose both vegetarian dishes, and soft drinks, juices.
Stylish interiors, tablecloths and curtains, neoclassical furniture and muted-pastel colors create an excellent mood. A well-knit team of experienced waiters, administrators and talented gourmet chefs with brilliant work skills will take care of all preparation for your visit or numerous celebrations.
Do you have any ideas? We are ready to agree on the holiday menu in advance!
Many restaurants in Almaty offer banquet halls for celebrations.
If you are looking for a restaurant with a conference room for a seminar or important negotiations with a break for business lunch, we are happy to host you at the restaurant "Uyut"!
Welcome to the best banquet hall in Almaty!
None of the popular institutions in Almaty will not offer you such a cozy banquet hall, worthy of a high level.If you are planning a big holiday, come to us! To hold a personal or corporate celebration in our restaurant is equipped with a luxurious banquet room in Italian style. We offer comfort and coziness, excellent service, exquisite multi-gastronomic menu. Your guests will be satisfied.
Restaurant Hall "Uyut" roomy and most comfortable. It is decorated in a bohemian spirit that will honor the most solemn event - a wedding or an anniversary. We will provide an optimal seating for all participants of the festival, creating an atmosphere of friendly communication. The banquet hall is distinguished by the class of service, which we always support at the maximum height.Choosing our banquet hall, you get a decent service, excellent cuisine, cozy atmosphere and a lot of pleasant impressions.
Breakfast menu, buffet
We offer full tasty and varied breakfasts in the buffet style. You have the opportunity to order service in the room or go down to the table of the restaurant "Uyut". We thought of all the amenities for our guests.
Breakfast can be served in the room. You will be offered:
breakfast in Asian style (fried eggs; porridge (rice or oatmeal); samsa (chicken, pumpkin or apple); chicken sandwich, Ayran or milk; tea or coffee);
American breakfast (omelette; toasted sausages and bacon; french fries or baked vegetables; bread for toast, butter, juice (apple or orange));
french breakfast (omelette with cheese and tomato; croissants; bacon, cheese, baguette; butter, fruit to choose from (orange or apple); juice (apple or orange)).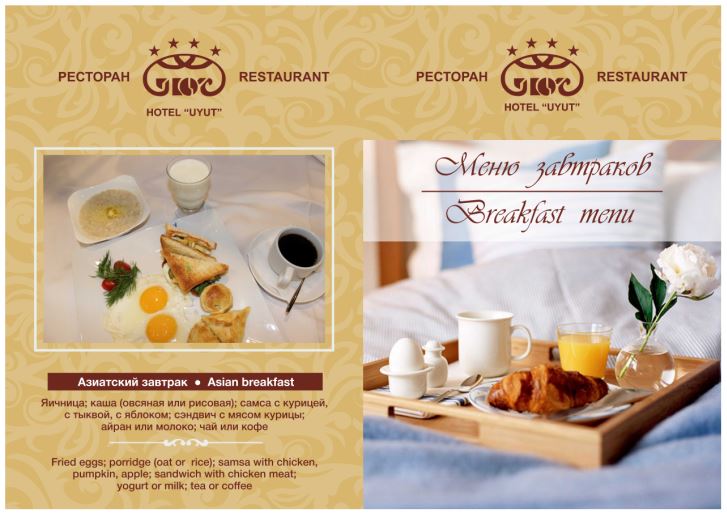 Restaurant menu
We welcome you and offer our menu. We have a good breakfast, lunch and dinner in the atmosphere of this Italian patio.
Traditional menu (selectively)

Salads

Name
Ingredients
Peking (Pekinskij)
Fresh cucumbers, sweet peppers, veal meat, garlic, vegetable oil
Farmer's Yard (Fermerskij dvorik)
Assorted chicken roll, skewered meat and duck breast
Caesar
Salad leaf in Ranch sauce, chicken fillet, parmesan cheese and breadcrumbs
Submarine chaser (Morskoj ohotnik)
Fresh vegetable salad with seafood under cocktail sauce
Cold starters

Name
Ingredients
Assortment of cheeses
Cheese, fruit, crackers
Assorted "Kazakhstan"
Kazi, Zhaia
Assorted meat
Servlet, skewered meat, chicken roll
Snack in Russian
Potatoes, salted herring, marinated cucumbers
Hot appetizers

Name
Ingredients
Cheeseburger
A roll with a chop and cheese is served with French fries and summer salad
Kebab «Sea and land»
Beef tenderloin and shrimp with Hungarian sauce and French fries
Beer snacks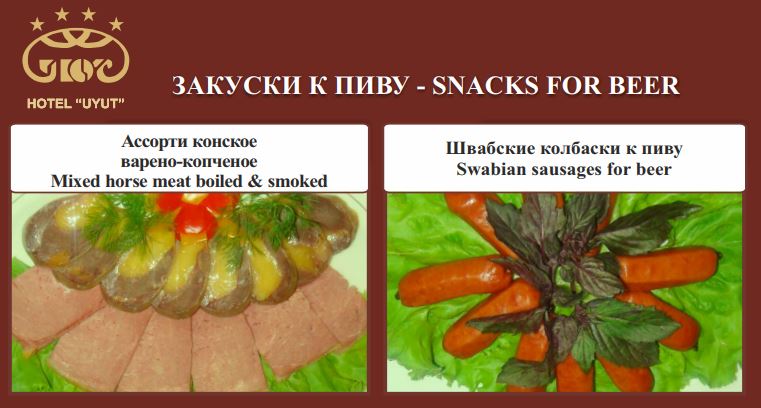 Chechel cheese
Meat Basturma
Assorted boiled-smoked horse meat
Hot First Dishes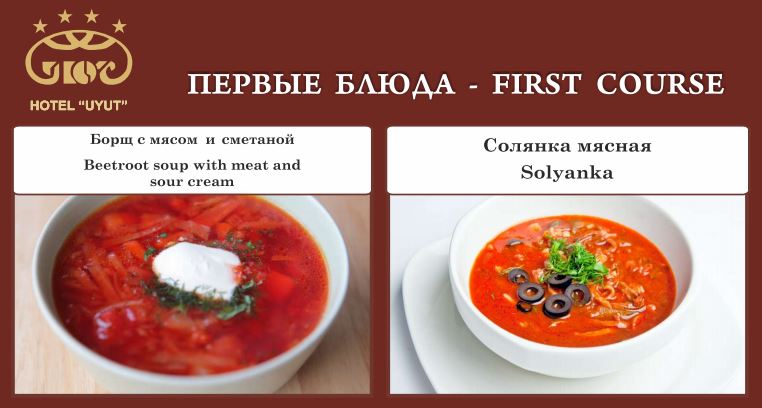 Borscht with meat and sour cream
Sorpa with meat and baursakami
Fish soup is Kingly
Soups-puree - lentil, pumpkin, tomato, mushroom, etc.
Hot dishes

Name
Ingredients
Stake «the Double Uyut»
Fillet of veal and chicken with mushrooms under cheese crust, served with French fries
Veal Langhete
With tomatoes, cheese and rice
Beef Stroganoff
With mushrooms in white sauce with rice
Lamb Ribs in Puff Pastry
Baked with garlic
Omelette of your choice
With ham and cheese, mushrooms with French fries
Chicken Floebe
Stuffed with butter
Seabass or Dorado fish
Grilled meat with cheese, foil or stuffed with vegetables
Garnish
French fries, puree, home-style
Grilled vegetables
Rice
Braised cabbage
Boiled buckwheat
National cuisine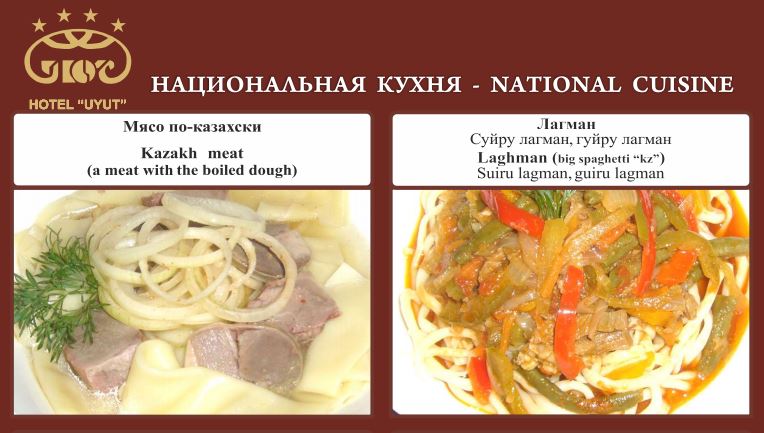 Beshbarmak
Samsa with meat, pumpkin, with cheese and potatoes
Mampar
Italian Cuisine

Spaghetti
Bolognese, Carbonara
Pizza with Italian sauce
Champignons, ham, chicken, bell pepper, cheese, shrimp
Dessert

Panna cotta
Soufflé with fruit filling
English cake
Fruit salad
Pancakes (Bliny)
With ham, cheese, honey, jam, sour cream, salmon
Different kinds of ice-cream
Cocktails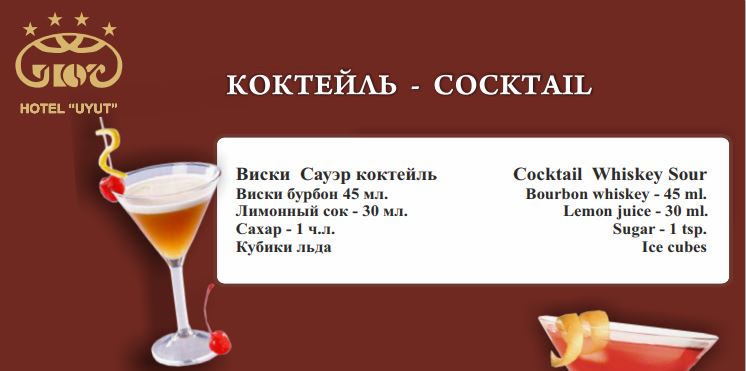 In our menu there is a wide selection of alcoholic and non-alcoholic cocktails, wine list, assortment of branded vodka, liqueurs and cognac.
Look at the full menu of the restaurant.
Оставить отзыв
Оценка:

Оценка

5

из 5 на основе 1 оценок(ки)

Имя *
E-mail
Отзыв *